Immersive Explorer
A modern file explorer for Windows 10, Windows 8.1, and Windows 7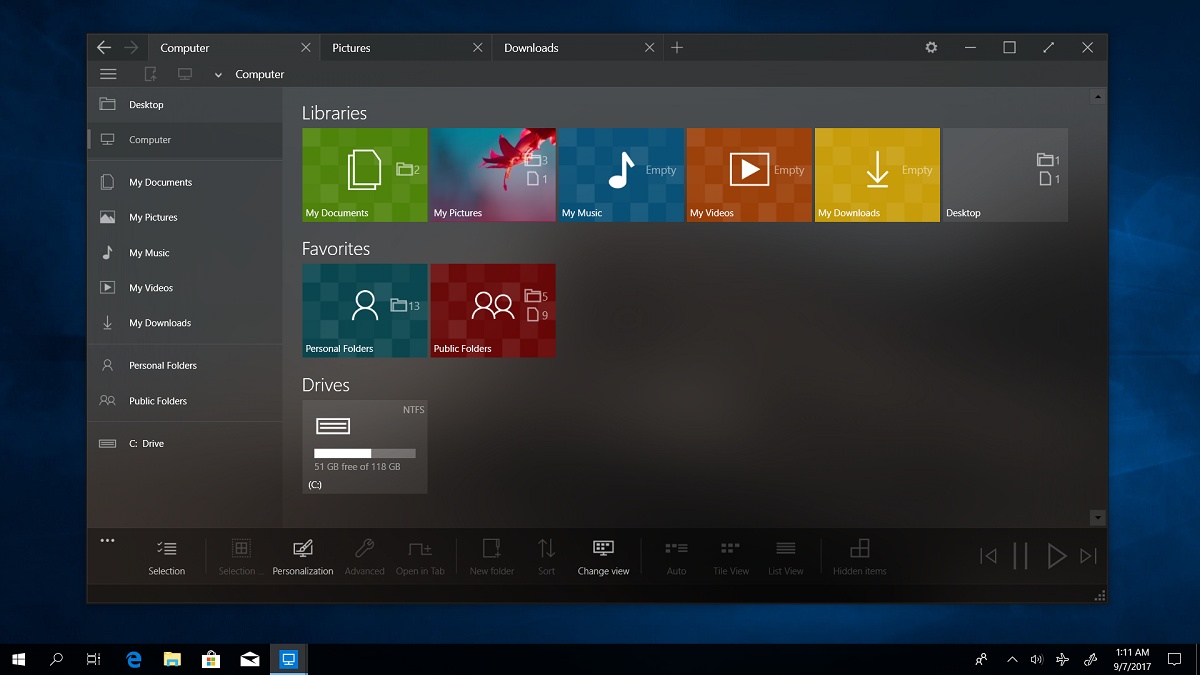 Immersive Explorer is an alternative to the default file explorer included in Windows (known as Windows Explorer). It is designed to provide an "immersive" experience to the user by focusing on the content rather than hiding it behind icons and large window chrome and borders. It allows the user to avoid opening different applications and switching between multiple windows when doing tasks as simple as viewing a picture, thanks to the built-in viewer.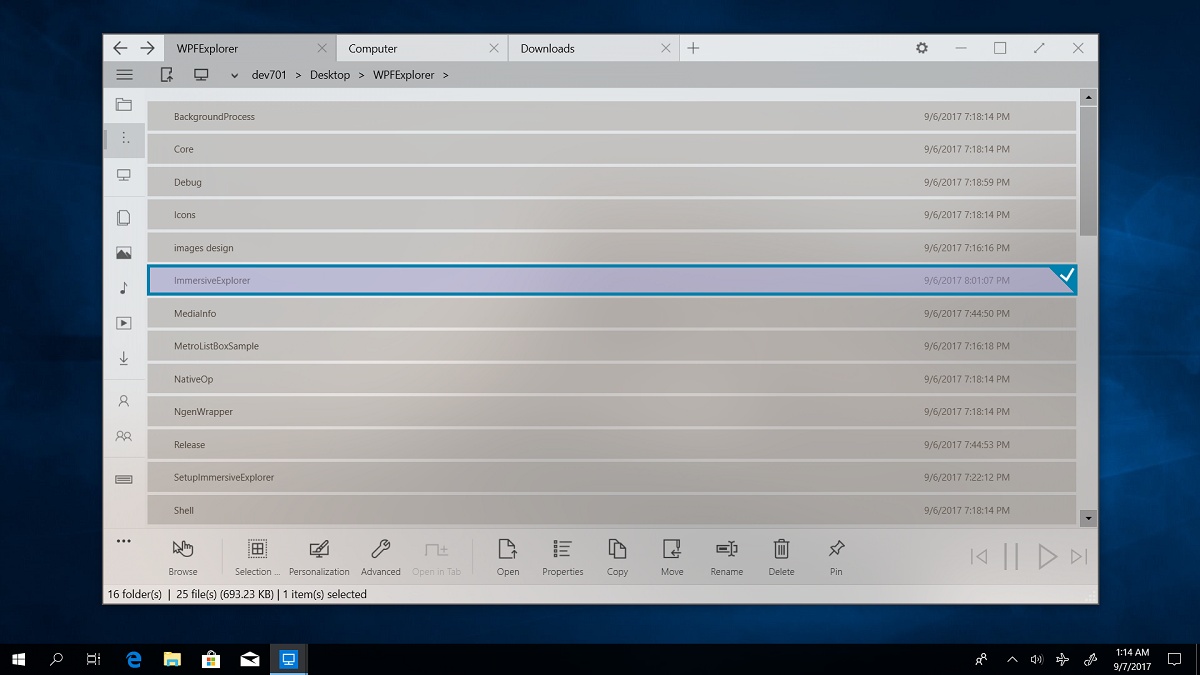 Immersive Explorer is based on Win32/.NET/WPF (Windows Presentation Foundation). It uses graphical hardware acceleration to display fluid animations and transitions, making it look more modern than the default Windows File Explorer. Note that it's not a complete replacement for the Windows Shell (it's just an alternative to the Windows Explorer) and it doesn't even need administrator rights to be installed.
Configuration required :
- Windows 7, Windows 8.1 or Windows 10
- If you're using a tablet : At least an Intel Atom Bay Trail CPU (most tablets released with Windows 8.1).
- If you're using a desktop/laptop : At least a Dual Core CPU
- At least 1 GB of RAM
- .NET Framework 4.5

Current version : 1.6.0 (released on 2018/05/23)
Download
Immersive Explorer Premium is now available for purchase.
Immersive Explorer Basic is still free. The Premium version offers aditionnal features. Click here to learn more!
Translations :
Want to help translate Immersive Explorer in your language?
Contact me
!
Some of the translations listed below may be old and no longer updated by their original author. If you find that your language is not well translated, I would be glad if you want to send me an update by email! (use the en.lang file as reference)
Language
Availability
Author
Status
English
Included
Julien Manici
OK
Amharic
Automatic download
Melaku Seyoum
Outdated
Arabic
Automatic download
Majed Alotaibi
Outdated
Armenian
Automatic download
Hrach Mkrtchyan
Outdated
Bulgarian
Automatic download
Danko Yordanov
OK
Catalan
Automatic download
Cesar Andres Arias
Outdated
Chinese (simplified)
Automatic download
1st version: Li Bowen
2nd version: 大眼仔~旭(Anan)
3rd version: 雨棚
Current version: Flyia
OK
Chinese (traditional)
Automatic download
Current version: 雨棚
OK
Croatian
Automatic download
Krešimir Božić
OK
Czech
Automatic download
Marek Snapka
Outdated
Dutch
Automatic download
Jan van Dijk
Outdated
French
Automatic download
Julien Manici
OK
German
Automatic download
1st version: Philipp Borucki
2nd version: Eric Arnold
3rd version: Friedrich Schellert
Current version: Tobias Lenz
OK
Greek
Automatic download
1st version: Wasilis Mandratzis
Current version: geogeo.gr
Outdated
Hebrew
Automatic download
Aharon Don
Outdated
Hungarian
Automatic download
1st version: "Bluestar"
Current version:Izumo Hiiragi
OK
Indonesian
Automatic download
1st version: "Luke"
Current version: Venson Wijaya
OK
Italian
Automatic download
1st version: Gianfranco Di Tommaso
Current version: Ingemi Paolo
Outdated
Japanese
Automatic download
katgum
OK
Korean
Automatic download
Jaehyung Lee
OK
Persian
Automatic download
1st version: نیکان دالوند
Current version: Javad Rajabzade
OK
Polish
Automatic download
1st version: Krystian Duszynski
Current version: Superjonh
OK
Portuguese
Automatic download
Maxwell Black
OK
Portuguese (Brazil)
Automatic download
1st version: Robson Ciconelli
Current version: Marcelo D'Moriam
OK
Romanian
Automatic download
1st version: Brebenel Silviu
Current version: Sergi Vataman
OK
Russian
Automatic download
1st version: Nikita Sotnichenko
2nd version: "skyrimbattlemage"
Current version: Slava Kemerov
OK
Slovene
Automatic download
Current version: Drago Kraner
OK
Spanish
Automatic download
1st version: Jorge Ronald Cribb
2nd version: Sismo Kritikal
3rd version: Mario Fernandez
Current version: Kevin Figueroa
OK
Spanish (Mexico)
Automatic download
Luis Jaramillo
OK
Swedish
Automatic download
Kim Andersson
Outdated
Turkish
Automatic download
1st version: Enes Demirel
Current version: Yasin DEMİRCİ
OK
Thai
Automatic download
Amarit Nantapak
OK
Ukrainian
Automatic download
Outdated
Uzbek
Automatic download
Shaxriyor Hoshimjonov
Outdated
Vietnamese
Automatic download
1st version: Trịnh Bảo Khương
Current version: Tran Phi Phi
Outdated